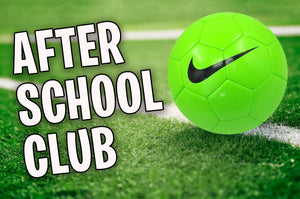 Bookings are available for existing members until Monday 23rd October, after that date bookings are available for new & existing members.
Day & Time: Fridays
Parent Pick-up information: Pick up times for the club have been staggered to the following times, from the front gate at the school, Year 1 to Year 4: 4.20pm, Year 5 & 6: 4.25pm 
Dates: Friday 03rd November to Friday 08th December 2023
Requirements: Please make sure all children have appropriate clothing, shin pads and correct footwear (boots or trainers).
Late Charge: £5 every 15 minutes late picking up
Booking Guidance: Please enter your child's name when completing your billing address. Please add any medical information into the notes section upon booking.
Only children that are booked in for the club are eligible to attend, booking must be completed prior to the first session of the term. Full Covid safety guidelines will be in place for this club.